Highlights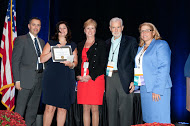 Congratulations to Ann Dealy, Principal, Ossining for being selected to receive the Raymond R. Delaney Memorial Scholarship at fall. Also pictured Ossining Superintendent Ray Sanchez; Cassandra Ingham of Utica National Insurance Group; Bill Johnson, Rockville Centre and Distinguished Service Committee Chair; and 2013-2014 President Mary Beth Fiore, Elmira Heights.
MC alum and adjunct instructor Dr. Jerry Jellig opines on NCLB as the most progressive legislation in recent education history. Click here to read his Commentary piece in Ed Week!
Interested in what other opportunities Mid-Career students and alumni are involved in? Click here to see more highlights.
Calendar
December Regional Information Sessions
Wednesday, December 11th, 2013
Boston, MA - 7pm-9pm
Hilton Boston Back Bay Hotel, Washington Room, 40 Dalton Street, Boston, MA 02115
Virtural Open Houses
Monday, December 16th, 2013 - 6:30pm-8:30pm
Monday, January 13th, 2013 - 6:30pm-8:30pm
More information and additional events can be found under the News tab. To RSVP for an event please send an email to mcprog@gse.upenn.edu. Walk-ins are always welcome to any Mid-Career event!