Succeeding in the City: A Report from the New York City Black and Latino Male High School Achievement Study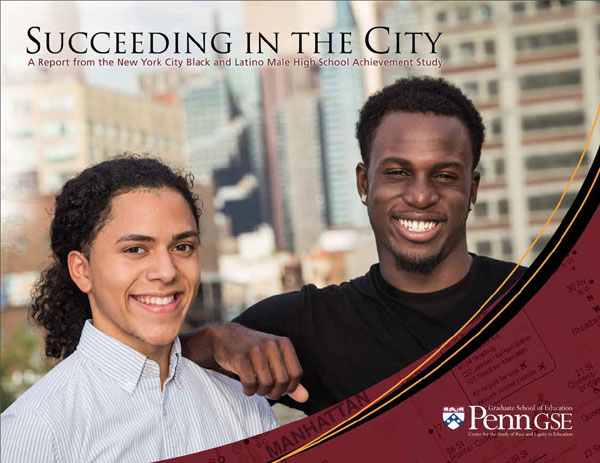 "If we choose to look for promising young men of color in urban contexts, we're likely to find them."
-Dr. Shaun Harper in The Chronicle of Higher Education
---
By Shaun R. Harper and Associates
This report is the first publication from the New York City Black and Latino Male High School Achievement Study, a project that entailed face-to-face individual interviews with 415 students from 40 public high schools. Ninety were enrolled in 44 colleges and universities, the rest were college-bound high school juniors and seniors.
Understanding how these young men succeeded in and out of school, developed college aspirations, became college-ready, and navigated their ways to postsecondary education was the primary aim of this project. Instead of further amplifying deficits and documenting failures in urban schools, 13 Black and Latino male researchers from the University of Pennsylvania chose to study students who figured out how to foster productive relationships, resist pressures to join gangs and drop out of high school, and succeed in environments cyclically disadvantaged by structural inequities.
Several important findings are presented in this report. It concludes with recommendations for six different constituencies: (1) parents and families; (2) urban high school teachers; (3) high school guidance counselors; (4) principals and other high school leaders; (5) postsecondary professionals and leaders; and (6) mayors, governors, and policymakers. Anyone who wishes to understand how young men of color succeed in urban educational contexts is likely to find this report interesting and useful.
This 40-school study was made possible through a grant from the Open Society Foundations.
---
Dr. Shaun Harper
Click here for full bio and hi-res headshot.
Dr. Shaun Harper is an expert on the education of minority males. He recently founded the Center for the Study of Race and Equity in Education at Penn GSE to publish cutting-edge implications for education policy and practice. Dr. Harper has also recently completed a comprehensive 50-state policy report on access and equity for Black undergraduate men at public colleges and universities for the Congressional Black Caucus. He is presently writing two single-authored books, one on Black male college achievement for Harvard University Press and another on race/racism in higher education for Teachers College Press. He is also engaged in data collection for a ten-year research project on race in college student affairs; a multi-campus study of undergraduate men who engage in anti-sexist, anti-racist, and anti-homophobic behaviors; and a study of institutional change for Black male student success in college, funded by Lumina Foundation for Education.
---
Media Inquiries
If you are interested in writing about Harper's report or setting up an interview, please contact Penn GSE's Executive Director of Communications, Kat Stein, at (215) 898-9642 or katstein@gse.upenn.edu.
Press Release
For more information on the report on the New York City Black and Latino Male High School Achievement Study, please refer to the press release.
Press Coverage
Inside Higher Ed
In Plain Sight, September 30, 2013
"Harper found not only that such students exist (no surprise to him, but perhaps to those who lament the dearth of such students) but that many of them have no idea that they would be attractive candidates for admission to some of the most elite colleges in the United States."
Chronicle of Higher Education
Stereotypes Add to Burden for Minority Male Students, Researcher Says, September 30, 2013
"Rather than bemoaning how few minority male students succeed in college, admissions counselors should reach out to high-school counselors to find smart, motivated students who are flying under the radar of most selective colleges, a University of Pennsylvania researcher said on Saturday."
Education Week
Study Identifies Strategies for Blacks, Latinos to Succeed Academically, September 30, 2013
"To high schools, the researchers suggested urban teachers challenge students with rigor and be personally supportive, that counselors help students broaden their college search to avoid undermatching, and that principals lead by creating a college-going environment."