About "Understanding Minority-Serving Institutions"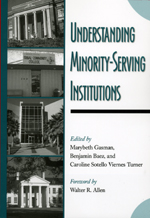 Understanding Minority-Serving Institutions explores these important institutions while also highlighting their interconnectedness, with the hope of sparking collaboration among the various types. Minority-serving institutions (MSIs) enroll and graduate the majority of students of color in the United States and traditionally include historically Black colleges and universities, Hispanic-serving institutions, tribal colleges, and more recently Asian American– and Pacific Islander–serving institutions. The book's contributors focus on several issues, including institutional mission, faculty governance, student engagement, social justice, federal policy, and accreditation. They critically analyze the scholarship on MSIs, not only describing the existing research and stressing what is missing, but also providing new lines of thought for additional research.
Contributors include Angela R. Albert, Walter R. Allen, Benjamin Baez, Andrea L. Beach, Estela Mara Bensimon, Brian K. Bridges, John J. Cheslock, Frances E. Contreras, Phyllis Worthy Dawkins, Saran Donahoo, Noah D. Drezner, Michelle M. Espino, Stella M. Flores, Marybeth Gasman, Jessie L. Grant, Justin P. Guillory, Linda Serra Hagedorn, Joan B. Hirt, Steven Hubbard, Philo A. Hutcheson, Jillian Kinzie, George D. Kuh, Berta Vigil Laden, Thomas F. Nelson Laird, Wynetta Y. Lee, Lindsey E. Malcom, Deirdre Martinez, Charmaine Jackson Mercer, James T. Minor, Otoniel Jimenez Morfin, Julie J. Park, Athena Perrakis, Brooks B. Robinson, Stephen L. Rozman, Frances K. Stage, James B. Stedman, Terrell L. Strayhorn, Robert T. Teranishi, Caroline Sotello Viernes Turner, and Kelly Ward.
Praise for "Understanding Minority-Serving Institutions"
"…Understanding Minority-Serving Institutions is to be commended not only for its first-rate scholarship but also for giving faithful expression to the core values held by its editors and contributors and embodied by colleges and universities committed to serving underrepresented students. Animated by a refreshingly unapologetic and unequivocal belief in the importance of MSIs to students and society, this text is a testament to the value of ideologically-positioned and well-disciplined inquiry in the field of higher education." — Teachers College Record

"This book is a much-needed contribution to the literature about minority issues in higher education and MSIs in particular. It adds to our understanding about where MSIs have been and where they are likely to go, and will be enormously useful to the national dialogue about improving both the quality and accessibility of American higher education in the coming years." — Jamie P. Merisotis, President, Institute for Higher Education Policy

"This robust collection provides an exemplary introduction to MSIs. With passion and scholarly acumen, this diverse and engaging book offers multiple perspectives on the contributions as well as challenges and opportunities facing these institutions—and brings attention to institutions that have often remained largely invisible on the landscape of higher education." — Clifton Conrad, University of Wisconsin at Madison

"This is an engaging, insightful, and masterfully crafted book. The editors deserve praise for assembling such a respectable cast of scholars and producing a book that will surely become the seminal text on MSIs. This book adds tremendous value, illuminates critical trends and issues, and dispels several faulty assumptions regarding MSIs." — Shaun R. Harper, Director, Research Division, National Association of Student Personnel Administrators

Publication Information
State University of New York Press
March 2008
Hardcover ISBN: 978-0-7914-7359-7, $74.95 ORDER
Softcover ISBN: 978-0-7914-7360-3, $34.95 ORDER
384 pages