About "Theoretical Perspectives on Student Success"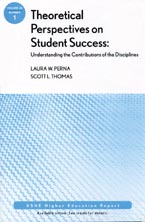 Drawing on a review of theory, methods, and the substantive focus of student success research in four disciplines, this report proposes a conceptual model to guide policymakers, practitioners, and researchers in their efforts to close well-documented gaps in student success. The model proposes that student success is determined by four layers of context: the students' internal context, the family context, the school context, and the broader social, economic, and policy context.
The model also assumes that (1) student success is a longitudinal process; (2) multiple theoretical approaches inform understanding of student success; (3) student success is shaped by multiple levels of context; (4) the relative contribution of different disciplinary and area perspectives to understanding student success varies; (5) multiple methodological approaches contribute to knowledge of student success; and (6) student success processes vary across groups.
The monograph offers several implications of the model for policymakers and practitioners as well as researchers.
Publication Information
Jossey-Bass, Ashe Higher Education Report 34.1
July 2008
Softcover ISBN 978-0-4704-1078-3, $28.00     ORDER
112 pages