By Richard Ingersoll and Lisa Merrill
How has the elementary and secondary teaching force changed in recent decades? Have the kinds of individuals going into teaching changed? And, if so, how?
To answer these questions we recently embarked on an exploratory research project to try to discover what kinds of changes have, or have not, occurred over the past several decades to the teaching force. We were surprised by what we found, in part because some of the most dramatic trends appear to be little noticed by researchers, policymakers, and the public.
To conduct our study, we analyzed data from the largest and most comprehensive source of information on teachers available — the Schools and Staffing Survey (SASS) and its supplement, the Teacher Follow-up Survey (TFS).1 Conducted by the National Center for Education Statistics, the SASS administers survey questionnaires to a random sample of about 50,000 educators representing all types of teachers, schools, and districts and all 50 U.S. states. Unlike most large-scale surveys in the field, SASS focuses on teachers rather than students.
Six cycles of SASS have been administered over a 20-year period — 1987-88, 1990-91, 1993-94, 1999-2000, 2003-04, and 2007-08. We decided to take advantage of the depth and duration of these data to explore our questions about the demographic status of the teaching profession. Below, we summarize four of the most intriguing trends we found.
For each of the trends two large questions immediately arise: First of all, why? What are the reasons for, and sources of, the trend? Second, so what? What are the implications, and consequences, of the trend? There are numerous possible answers to each of these questions and we have been able to test and rule in, or out, a number of them. But our goal has not been to get closure on either set of questions — that would require far more extensive analyses than we have yet done. Our objective this far has been largely descriptive and suggestive, rather than explanatory or evaluative. In short, at this point we ask more questions than we are able to answer. Hopefully, in time, further research can rectify that.
Trend 1: Ballooning
The Census Bureau indicates that K-12 teaching has long been one of the largest occupational groups in the nation, if not the largest, and it is growing even larger. Data from the U.S. Department of Education show the numbers of both students and teachers grew throughout the 20th century. But the rate of growth for both groups began to soar in the late 1940s with the post World War II baby boom. By 1970, student enrollments peaked and then declined until the mid 1980s. At the same time, the numbers of teachers similarly peaked and then leveled off. By the mid 1980s, student enrollments again began to grow — the baby boomlet — continuing to the present. During this period, the teaching force has also been increasing. The rate of these increases has not matched those of the baby boom years — with one large difference. The rate of increase for teachers has far outpaced the rate of increase for students — the numbers of teachers are going up far faster than are the numbers of students.
Over the past 20 years, total K-12 student enrollment (public, private, and charter schools combined) went up by 19 percent. In comparison, during the same period the teaching force increased at over 2.5 times that rate — by 48 percent. (See Figure 1.)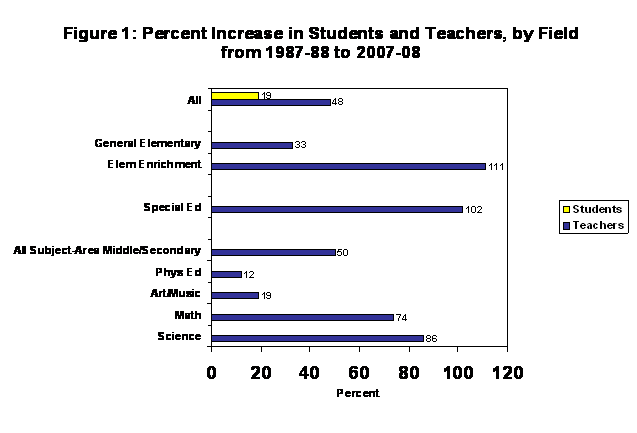 Why is this?
One explanation is that a reduction in teachers' workloads—class sizes, hours teaching, or classes taught per day—has necessitated an increase in the numbers of teachers employed. The data indicate that the sizes of regular elementary classes did drop about 20 percent during this period, and accordingly, the number of general elementary school teachers increased. Since elementary teachers comprise almost a third of the entire teaching force, their increase accounted for a portion of the ballooning—but not as much as one might expect.
In contrast, typical subject-area courses at the middle and high-school levels saw little change in class size from the 1980s to present. Moreover, during this period teachers at all school levels saw a slight increase in their workload, because there has been a slight increase in the average number of instructional hours worked per teacher, per week.
Another source of the ballooning is the growth of special education, probably linked to changes in the Individuals with Disabilities Education Act—the main federal special education legislation. As shown in Figure 1, the number of teachers with majors in special education increased by 102 percent (compared to a 33 percent increase for general elementary education). The increase in special education teachers alone accounts for almost one fifth of the entire increase in the teaching force during that period. Because special education class sizes are about half of those typical in elementary and secondary schools, the growth in this area helps explain why growth in the teaching force is outpacing growth of students.
Yet another source of the ballooning is a dramatic increase in the number of teachers of elementary enrichment classes—up by 111 percent since 1990-91. These are instructors who teach one subject (predominantly art, music, and physical education) to most of the students in an elementary school.
With the ballooning of the teaching force have come large shifts at the middle and secondary levels. Overall, the number of typical subject-area teachers at the middle and high-school level has increased by a higher rate—50 percent—than for general elementary teachers. But we also found a large redistribution of these teachers across fields. Non-core-academic subjects (art, music, physical education) have seen far smaller increases than have special education and the core academic subjects, especially math and science. Although general elementary teachers outnumber math and science teachers by two and a half times, the latter two groups accounted for almost as much of the overall ballooning as did elementary teachers. Interestingly, the data also show that the fastest rate of increase in math and science teachers occurred during the 1990s, before the advent of the No Child Left Behind Act.
One major factor appears to be changes in secondary-school graduation requirements across the nation. The data show that for core subjects, especially math and science, graduation requirements increased during this period, resulting in increases in the number of math and science courses taken by students. The data show that students enrolled in math and science classes increased—by 69 percent and 60 percent, respectively. No doubt, this phenomenon has driven the large increase in the employment of teachers qualified in those subjects.
Another potential factor behind the ballooning may be ongoing increases in the number and range of programs and curricula offered by schools, especially at the secondary level. Educational historians have told us this pattern has been unfolding for a century, as schools are continually asked to take on more responsibilities that were once the province of parents, families, and communities.
What are the implications of this trend?
One sobering implication is the cost of an expanding teaching force—given that teacher salaries are the largest item in school-district budgets. How have school systems coped with such an increase in their largest budget item and who is paying for it? How much of the increase in special education staff has been covered by federal, state, or local funding? On the other hand, what are the implications of cutting non-core academic programs like art and physical education? Finally, the large increases in the employment of math and science teachers has implications for the ongoing policy concern over the math and science teacher shortage—an issue we have explored in depth elsewhere (see Ingersoll and Perda 2010a).
Trend 2: Graying
The teaching force has gotten older. We often hear about this trend—and it is true. The data show that the teaching force has been aging. As illustrated in figure 2, our analyses of the data show that in 1987-88 the age distribution of teachers was shaped like a tall peak. The modal, or most common, age was 41. As these teachers have aged, this peak has moved. By 2007-08, the modal age of the teaching force was 55 (Figure 2). The data also show the number of teachers 50 years or older increased, from about 527,000 in 1987-88 to 1.3 million in 2007-08.
As a result, the data show the number of teacher retirements has also increased—from 35,000 in 1988 to 85,000 in 2008. Our analyses of the SASS data indicate that the average age of retirement for teachers is 59. This suggests that the number of teachers retiring will continue to increase until the 2011-12 school year, at which point it will probably be at an all-time high, and after which the number will probably begin to decline.
What are the implications of this trend?
Figure 2: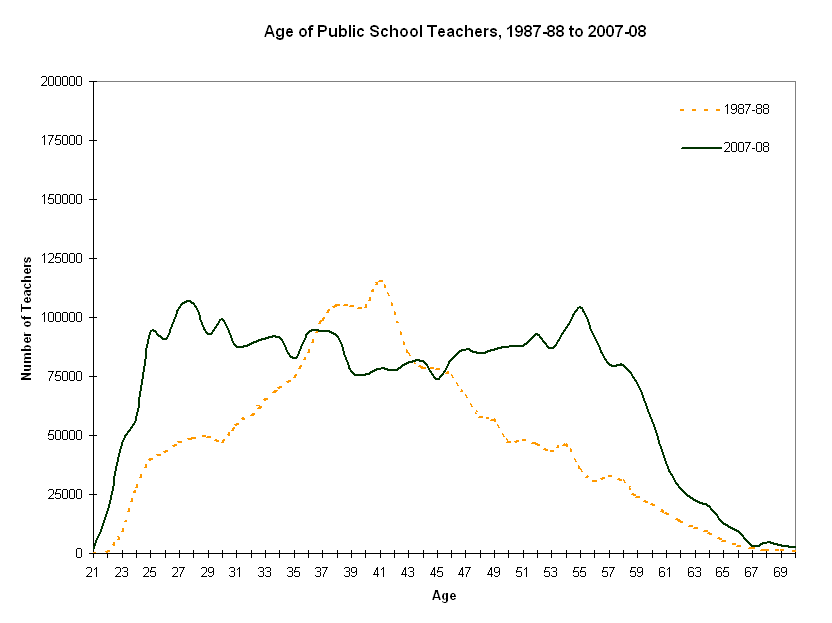 One implication of aging, often noted, is its impact on the supply of teachers. Conventional wisdom has long held that retirements are a major factor behind teacher shortages. But often overlooked is that teacher retirements have always represented a small portion of all of those leaving teaching—less than one-third in recent years. When one looks at all departures of teachers from schools (both those moving between schools and those leaving the field altogether), retirement is only about 14 percent of the total. In our research, noted above, on the teacher shortage, we have found that pre-retirement turnover is a larger factor behind school staffing problems than is retirement.
Moreover, certainly, aging has cost implications for school budgets and state pension systems given that veteran teachers earn higher salaries and more retirees require greater spending on pensions. But if retirees are replaced with new teachers, who earn lower salaries and who pay into state pension plans, these additional costs could be partially absorbed. As we will show below, not only have retirees been replaced with newcomers, the latter flow has become a flood.
Trend 3: Greening
Graying, however, is not the only age trend for teachers. Another, opposite trend has emerged simultaneously. By 2008, the teacher age distribution, as shown in figure 2, had become bi-modal—two peaked. Besides having a large proportion of older teachers, schools have seen a simultaneous increase in the proportion of younger teachers. The latter is driven by the ballooning trend—the huge increase in new hires. Most of these are new hires are younger, but given another change—an increase in mid-career switching—we also see significant numbers of older, and relatively inexperienced, teachers. These many new hires have resulted in a third large trend: a dramatic increase in th portion of teachers who are beginners—a greening of the teaching force.
This greening is illustrated by the distribution of teachers by their years of experience. In 1987-88 the modal teacher had 15 years of teaching experience and the shape of the distribution was a single peak as shown in figure 3. By 2007-08, as also shown in figure 3, the modal teacher was not a gray-haired veteran; he or she was a beginner in the first year of teaching. In 1987-88, there were about 65,000 first-year teachers; by 2007-08, this number had grown to 200,000. By that year, a quarter of the teaching force had five years or less of experience.
What are the implications of this trend?
New teachers can be a source of fresh ideas and energy. On the one hand, for many schools and school systems, a scarcity of veterans will mean fewer teachers able to provide mentoring and leadership. On the other hand, as mentioned earlier, some of these costs associated with a ballooning teaching force might be ameliorated by an increasing portion of the teaching force at the low end of the pay scale and contributing to, but not withdrawing from, pension systems.
Figure 3: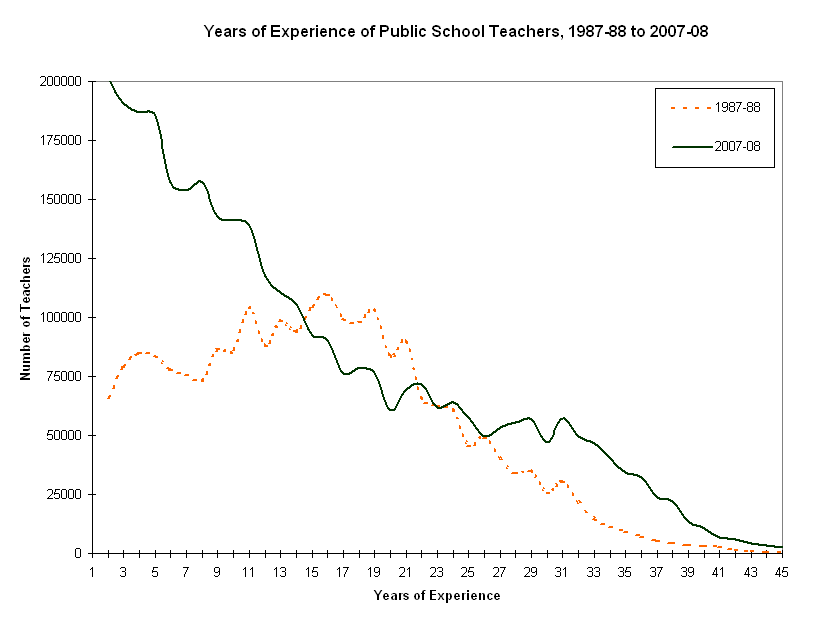 Trend 4: Becoming More Female
Along with nursing, teaching has been one of the traditional career options for women, but in the past four decades, many fields—medicine, law, business, the military—that had been largely reserved for men have opened up to women. With all these alternatives, how surprising is it to find that teaching has become even more female than ever? The proportion of teachers who are female has risen steadily, from 66 percent in 1980 to 76 percent in 2007-08.
This change in the occupation's male-to-female ratio is not due to a decline in the number of men entering the field. The number of male teachers has risen by 26 percent since the late 1980s; at the same time, however, the number of women in teaching has grown at over twice that rate. This increase in the proportion of women is not spread evenly within schools. Elementary schools, long dominated by female teachers, have seen only slight increases. Rather, the increases have been concentrated on secondary schools, where male teachers dominated the classroom until the late 1970s.
What are the implications of this trend?
If the gender trend continues, teaching will become an occupation practiced largely by women, with more than 80 percent of all teachers being female by the year 2012. Many students will encounter few, if any, male teachers during their time in either elementary or secondary school. Given the importance of teachers as role models, and as surrogate parents, certainly some will see this trend as a problem.
Furthermore, given that women's work has traditionally been held in lower esteem (and been paid less) than male-dominated work, the feminization of the profession may have unfortunate implications for the stature and status of teaching as an occupation.
Conclusion
Has the elementary and secondary teaching force changed in recent years? The answer is most certainly yes—and in a number of ways. It is larger. It is both older and younger. It is more female. And for each of these trends large questions immediately arise. What are the reasons for, and sources of, the trend? Will its impact be positive or negative?
Despite this transformation of the teaching force and the serious nature of the questions that ensue, we found little discussion, or even awareness, of the matter—whether by researchers, by policymakers, or by the public.
But if these trends continue, the consequences will have serious implications for America's educational system. Teaching will become a very, very large occupation, dominated by those trained in core academic subjects and special education. Because of the large size of this occupation, teachers' salaries may likely decline in real dollars. As the field continues to balloon and the large older portion of the teaching force retires, teaching will be practiced predominantly by beginners and the young. But beginners, the largest group of the largest occupation, are also the least stable and, our analysis also shows, that instability has been increasing.
Perhaps there is an irony in all of this. Historians tell us that when the public school system, as we know it today, was invented a century ago, the teaching force was transformed into a very large mass occupation that was a relatively low-paying, temporary line of work, predominantly for young, inexperienced women, prior to their "real" career of child rearing (e.g., Tyack 1974; Lortie 1975). Perhaps the changes we have traced represent not an entirely new face, but a return to the old face of the American teaching force.
At the same time, we should beware of taking a deterministic view of history. The similarities between this latter-day transformation of the teaching force to its previous incarnation should not be considered conclusive evidence that the teaching force is incapable of change. The data also suggest an opportunity—the largest occupation in the nation is being expanded, replaced, and re-made. Who will they be?
It is up to us—researchers, educators, policymakers, parents—to attend closely to what the data are telling us and find the answers.
---
Penn GSE Professor Richard Ingersoll focuses his research on the sociology of education; Lisa Merrill is a doctoral student in Penn GSE's division of Policy, Measurement, and Evaluation.
References
Ingersoll, R. & Merrill, E. (2010). Who's Teaching Our Children?
Educational Leadership, 67: 14-20.[membership required to download article].
Ingersoll, R. & Perda, D. (2010a). Is the Supply of Mathematics and Science Teachers Sufficient? American Educational Research Journal, 20(3): 1-32.
Ingersoll, R. & Perda, D. (2010b) forthcoming). How high is teacher turnover and is it a problem? Philadelphia: Consortium for Policy Research in Education, University of Pennsylvania.
Lortie, D. (1975). School Teacher. Chicago: University of Chicago Press.
National Center for Education Statistics. (2005). Schools and Staffing Survey (SASS) and Teacher Follow-up Survey (TFS). Data File. Washington, DC: U.S. Department of Education.
Tyack, D. 1974. The One Best System. Cambridge, MA: Harvard University Press
---

Also from Richard Ingersoll
In recent years, the hue and cry has gone out that the nation faces a shortage of mathematics and science teachers. But does the evidence bear up the claim? Drawing on nationally representative data from multiple sources, Richard Ingersoll and David Perda conducted an empirical analysis of the supply of teachers in those all-important fields.
While confirming that math and science are the most difficult for schools to staff, their findings revealed a complicated picture. The authors identify a number of sources supplying new teachers to the field, with those with subject-matter degrees and those in the reserve pool outpacing those with newly minted education degrees. Those sources have been more than sufficient to meet increased demand (driven by revised graduation requirements, student course selection, and teacher retirement). However, when teacher attrition—that is, teachers leaving the field before retirement—is factored in, the balance between supply and demand tightens. Compared to subjects like English, the system does not enjoy a surplus of supply relative to losses.
The result, the authors argue, is that the problems of staffing math and science classrooms tend to be concentrated in schools with high turnover rates. "Is the Supply of Mathematics and Science Teachers Sufficient?" by Richard Ingersoll and David Perda, appears in American Educational Research Journal, 20(3).